Residential Locking Mailbox
Mail theft is still one of the biggest ways identity thieves get your personal information - especially around tax time. Using a locking mailbox can go a long way to prevent mail theft. This article explains the advantages of a locking mailbox, how it works, what thieves look for when stealing mail, selection criteria, and tips on preventing mail theft.
This is not the time to go cheap.

Our Recommendations
U.S. Post Office Approved
5 star rating
Big enough to hold magazines and pictures flat. 21 x 10.8 x 11.2 inches
Patented locking system to prevent prying, fishing, and leveraged entry
For curbside delivery
Powder coated finish
Color: black
Front and Rear access
Includes mounting hardware, 3 keys, installation template, drill bit
---
U.S. Post Office Approved
Wall or post mounted

12 x 10 x 4 inches

Includes 2 keys
---
Or shop for locking mailboxes
Advantages of a Locking Mailbox
Help prevent theft of sensitive mail, magazines, pictures, and prescriptions
Some mailboxes hold several days mail. Great if you go on a short trip
What Thieves Look For in Your Mail
Money
Outgoing checks (they can be chemically washed and rewritten)
Incoming new checks
Greeting cards (which often have money in them)
Utility bills (the info on these can be used to open fraudulent accounts in your name)
Bank statements (the info on these can be used to steal from your account)
Credit card statements
Credit card offers (these may be used to open an account in your name)
Financial statements, especially around tax time.
How does a Locking Mailbox Work?
The mail carrier takes your outgoing mail from the unsecured area and drops your incoming mail into a secured area of the mailbox. Only you have the keys to it. The outbound mail is not locked because the mail carrier would have to have a key.

Inexpensive mailboxes can easily be broken into with a crowbar or baseball bat. Most mailboxes are broken into with baseball bats but a few thieves are more industrious.
Locking vs. Self-Locking Mailbox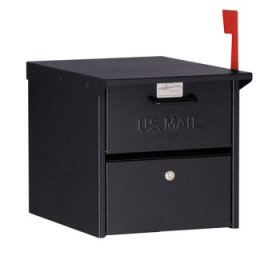 What is the difference between locking and self-locking mailboxes?

The locking mailbox has two parts to it:


1. The unsecured area (upper part of mailbox shown) where mail is picked up by the postal worker.

2. The locked area (lower part of mailbox shown) where delivered mail is picked up by you.



Mail is delivered through a letter slot in a locked door. The slot must be at least 1.75 inches high (per USPS specification). The door can only be opened by the owner.



A self-locking mailbox's primary method of delivery is through the door which is set to be opened once (by the mail carrier) then is locked when shut. If the mail is not picked up, the carrier can still deliver mail through a door slot. Once the homeowner picks up the mail, the box is reset so it can be opened once by the mail carrier.



The mail carrier does not have a key for either locking or self-locking boxes.



Selection Criteria
Here is a list of what is important when buying a residential locking mailbox:
USPS (U.S. Post Office) approved
Strong enough to resist tampering
Able to hold outgoing and incoming mail
Able to hold box of checks, magazines, priority mail envelopes
Rust-proof
Mount it yourself
Other things to consider
Some mailboxes can display address numbers
Most do not come with mounting posts; your current one will probably suffice
Most metal mailboxes have powder coated finishes; i.e. they cannot be repainted
Mail Theft Prevention Tips
Here are some things you can do to help prevent mail theft:
Take outgoing mail directly to the post office. Raised red flags on mailboxes are advertisements to mail thieves.
Collect mail promptly after delivery, if you can.
If you're going on vacation, have the post office hold your mail -- there's a simple form to fill out for this service.
Think twice before having someone collect your mail. Your nice neighbor may be an identity thief -- you never know.
Be sure the mailbox you drop your mail into is actually a mailbox. One known scam is when thieves park fake mailboxes in a busy area for a few hours, to collect mail from unsuspecting dupes.
Keep track of when valuable mail (social security check, bank statement, etc) is supposed to arrive.
Do not put your name on your mailbox.
Report any suspicious activity or possibly stolen mail to your post office ASAP. You will need to fill out form PS 2016.
Buy a locking mailbox.